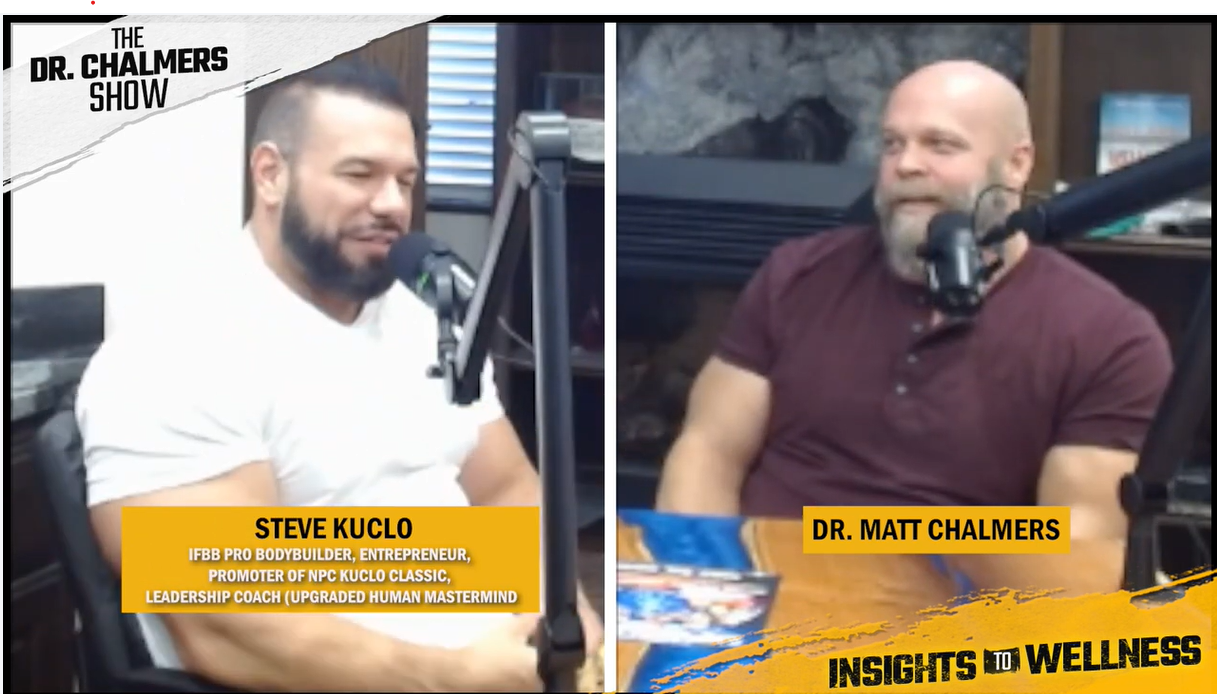 A top bodybuilding superstar stops by the show, and we cover some great topics for all athletes.
Please follow Steve Kuclo and check out his website HERE:
In 2011, Steve earned his IFBB Pro bodybuilding status at the USA's in Las Vegas, NV. Not only did he win his division, but he outshined them all by taking home the top honor of the Overall Mens Bodybuilding Champion. This made Steve, the one to watch.
Steve's First win as a Pro Bodybuilder was in front of his hometown crowd of Dallas, at the 2013 Dallas Europa earning him an Olympia qualification. In 2014, Steve's career made a huge jump in the world of Bodybuilding when won the Title of the Brazil Arnold Champion and placed top 10 in World at the Mr. Olympia.
This is part one of a 3-part interview. Enjoy, and send me any questions you may have about all of the topics covered in this podcast. Chalmerswellness.com
https://youtu.be/uhJnA13SoC4
00:00 - Intro
00:19 - Steve Kuclo Introduced himself
02:52 - Talks about Protein
03:47 - Talks about Blood work for Female Athletes
05:29 - Talks about Phytoestrogens
06:37 - Talks about Erythritol
09:18 - Talks about Testosterone
12:17 - Testosterone is used to get rid of Erectile Dysfunction
13:05 - Talks about Testosterone and Excercise
13:42 - Athlete and Blood Work
14:46 - Do you believe in Donating Blood?
18:15 - Things that are Damaging to the Liver
20:14 - Just because you bought them online and they're legal to buy online does not mean they're okay
22:56 - Talks about DVT( Deep Vein thrombosis )
24:15 - Talks about Keto for Diabetic
26:26 - You can't do this, or this is bad. Well, why is it bad?
28:27 - Talk about anti-aging
30:18 - Testosterone point of diminishing returns
31:44 - Talks about Thyroid
33:32 - Outro
Check out Chalmers Pillarsofwellness.com for Wellness updates! And ask me any questions you have at questions@chalmerswellness.com. I answer all of them and look forward to hearing from you.
The Chalmers Wellness Stubstack just launched. Comment, Like, Interact with other people on their wellness journey. Communities can make the difference.     DrChalmers.substack.com
Dr. Matt Chalmers
Disclaimer: This content is for informational purposes only. Before taking any action based on this information you should first consult with your physician or health care provider. This information is not intended to be a substitute for professional medical advice, diagnosis, or treatment. Always seek the advice of your physician or other qualified health providers with any questions regarding a medical condition, your health, or wellness.
Most Popular Post
Tags
Anti-Aging
,
Athletes
,
Balancing Life
,
Coffee Enemas
,
Couples Relationships
,
COVID
,
epidemic
,
Goals
,
Health Care
,
heart
,
Hollidays
,
immune system
,
Mental Health
,
Nutrition
,
reward
,
Rewards
,
SheFinds
,
Sleep
,
Stress
,
supplements
,
techniques
,
Trainers
,
Weight Loss
,
Wellness
,
women's health
,
Work
,
Workout