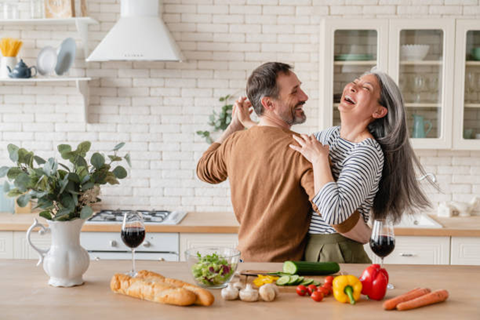 Invest in your relationships – All year not just at family gatherings
I get asked about investing all the time, and I can tell you one of the best things you can ever invest in is your relationship with your spouse. Having a great home life can never be understated. If you have built a relationship with your spouse to the point that you are best friends, it will improve all the other aspects of your life.
If you have a bad day, it's cool you get to go home to your spouse and relax. If you had a fantastic day, you could share it with your spouse. If you create your home full of peace, love, and friendship, going home and being home can be a respite from the storm, and storms are coming.
On the other hand, if you let or start with a shaky relationship, over time, you begin not to like the person you come home to, and that is the beginning of a life out of balance, which turns fast. We all saw what happened during covid when people were stuck home with their spouses; for some, it didn't go well.
With all the storms that come in life, and we are about to see lots of storms, it's important to put in the work and money to ensure your relationship is strong. If you have never taken a marriage class or had a married couple mentor you, I highly advise that you look into it now.
If you think you have a good relationship now, then marriage courses or counseling sounds silly; however, when things are good is the best time to start working on it. Professional athletes don't practice because they need to learn new skills. They practice so that the skills they have to stay sharp.
See a counselor, get with an older married couple and ask questions, take a course, read some books, and do something to stabilize your relationship. The future is uncertain. However, it looks darker than it does bright. The best way to ensure that things will be ok is to ensure that your home is full of love and peace.
Check out Chalmers Pillarsofwellness.com for Wellness updates! And ask me any questions you have at questions@chalmerswellness.com. I answer all of them and look forward to hearing from you.
Dr. Matt Chalmers
Disclaimer: This content is for informational purposes only. Before taking any action based on this information you should first consult with your physician or health care provider. This information is not intended to be a substitute for professional medical advice, diagnosis, or treatment. Always seek the advice of your physician or other qualified health providers with any questions regarding a medical condition, your health, or wellness.
Most Popular Post
Tags
Anti-Aging
,
Athletes
,
Balancing Life
,
Coffee Enemas
,
Couples Relationships
,
COVID
,
epidemic
,
Goals
,
Health Care
,
heart
,
Hollidays
,
immune system
,
Mental Health
,
Nutrition
,
reward
,
Rewards
,
SheFinds
,
Sleep
,
Stress
,
supplements
,
techniques
,
Trainers
,
Weight Loss
,
Wellness
,
women's health
,
Work
,
Workout